For the tunnel for trains, see Underwater Tunnel (Railway)
The Underwater Tunnel is a road tunnel located between the Business Island and the City Center expansion zone. It was originally introduced on March 07, 2013.[1]
A total of 375 assets are needed to complete construction of the Underwater Tunnel. This is equivalent to 375 

if one were to buy every asset instead of waiting to receive them from neighbors.
Gallery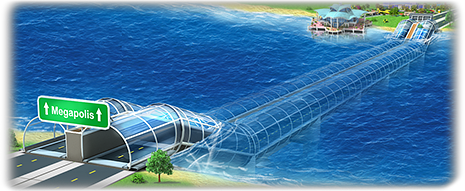 Assets
Underwater Tunnel (Level 1)

Underwater Tunnel (Level 2)

Underwater Tunnel (Level 3)

Underwater Tunnel (Level 4)

Underwater Tunnel (Level 5)

Underwater Tunnel (Level 6)

Underwater Tunnel (Level 7)

Underwater Tunnel (Level 8)

Underwater Tunnel (Level 9)

Underwater Tunnel (Level 10)
Data
| Level | Population Limits | XP | Power | Water | Additional Access |
| --- | --- | --- | --- | --- | --- |
| Level 0 | 5,000  (+5,000) | 500  (+500) | 15  (+15) | 5  (+5) | — |
| Level 1 | 15,000  (+10,000) | 750  (+250) | 25  (+10) | 5  (+0) | — |
| Level 2 | 40,000  (+25,000) | 1,000  (+250) | 35  (+10) | 5  (+0) | — |
| Level 3 | 55,000  (+15,000) | 750  (+-250) | 45  (+10) | 5  (+0) | — |
| Level 4 | 80,000  (+25,000) | 1,000  (+250) | 55  (+10) | 5  (+0) | — |
| Level 5 | 95,000  (+15,000) | 750  (+-250) | 65  (+10) | 5  (+0) | — |
| Level 6 | 120,000  (+25,000) | 1,000  (+250) | 75  (+10) | 5  (+0) | — |
| Level 7 | 135,000  (+15,000) | 750  (+-250) | 85  (+10) | 5  (+0) | — |
| Level 8 | 160,000  (+25,000) | 1,000  (+250) | 95  (+10) | 5  (+0) | — |
| Level 9 | 175,000  (+15,000) | 750  (+-250) | 105  (+10) | 5  (+0) | — |
| Level 10 | 200,000  (+25,000) | 1,000  (+250) | 115  (+10) | 5  (+0) | |
| Total/Max | 200,000  | 9,250  | 115  | 5  | — |
Trivia
SQ Internal Info:

Name: Подводный тоннель (translates to Underwater Tunnel)
ID: 13638 (underwater_tunnel_place)
References