The Subway Trains are production structures is (define type) located on the north-east of Megapolis Central Expansion. It was originally introduced on Fri December 20, 2013.[1] An update on Thu February 18, 2016 introduced a new upgradeable level.[2]
A total of 450 assets are needed to complete construction of each Subway Train. This is equivalent to 500 

if one were to buy every asset instead of waiting to receive them from neighbors.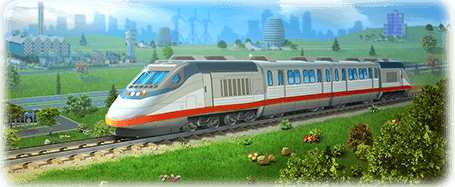 Gallery
Requirements
Assets
Miami Train (Level 0)

No assets required

St. Louis Train (Level 1)

Washington Train (Level 2)

Los Angeles Train (Level 3)

New Jersey Train (Level 4)

Portland Train (Level 5)

Amtrak Train (Level 6)

Houston Train (Level 7)
Contracts
Miami Train
↑ 1.0 1.1 1.2 Cost and reward are multiplied by up to 5 x Underground Subway Stations (Level 1)
↑ Before Fri March 13, 2015, the reward was 2,540 
↑ Before Fri March 13, 2015, the reward was 1,660 
St. Louis Train
Washington Train
Washington Train: Contracts
Name
Image
Cost
Time
Reward
XP
Coins /Minute
XP /Minute
Requirements
Rush Hour Schedule (III)[C 1][C 2]

2,350 
+
2,800 
3 hours
4,150 
+
3,850 
14 
10 
+
5.83 
0.08 
Underground Subway Station (Level 1)
Surface Subway Station (Level 1)
Workday Schedule (III)[C 1][C 3]

2,150 
+
2,600 
6 hours
5,050 
+
4,500 
23 
8.06 
+
5.28 
0.06 
Underground Subway Station (Level 1)
Surface Subway Station (Level 1)
Weekend Schedule (III)[C 1][C 4]

2,000 
+
2,400 
10 hours
6,050 
+
4,900 
22 
6.75 
+
4.17 
0.04 
Underground Subway Station (Level 2)
Surface Subway Station (Level 1)
Los Angeles Train
Los Angeles Train: Contracts
Name
Image
Cost
Time
Reward
XP
Coins /Minute
XP /Minute
Requirements
Rush Hour Schedule (IV)[C 1][C 2]

2,650 
+
2,950 
3 hours
4,750 
+
4,450 
19 
11.70 
+
8.33 
0.11 
Underground Subway Station (Level 2)
Surface Subway Station (Level 1)
Workday Schedule (IV)[C 1][C 3]

2,450 
+
2,750 
6 hours
5,950 
+
5,750 
31 
9.72 
+
8.33 
0.08 
Underground Subway Station (Level 2)
Surface Subway Station (Level 1)
Weekend Schedule (IV)[C 1][C 4]

2,250 
+
2,500 
9 hours
6,750 
+
5,200 
28 
8.33 
+
5 
0.05 
Underground Subway Station (Level 2)
Surface Subway Station (Level 1)
New Jersey Train
New Jersey Train: Contracts
Name
Image
Cost
Time
Reward
XP
Coins /Minute
XP /Minute
Requirements
Rush Hour Schedule (V)[C 1][C 2]

3,100 
+
3,250 
3 hours
5,650 
+
5,200 
25 
14.20 
+
10.80 
0.14 
Underground Subway Station (Level 2)
Surface Subway Station (Level 1)
Workday Schedule (V)[C 1][C 3]

2,800 
+
3,000 
6 hours
6,400 
+
6,600 
42 
10 
+
10 
0.12 
Underground Subway Station (Level 2)
Surface Subway Station (Level 1)
Weekend Schedule (V)[C 1][C 4]

2,550 
+
2,650 
10 hours
8,050 
+
6,650 
46 
9.17 
+
6.67 
0.08 
Underground Subway Station (Level 2)
Surface Subway Station (Level 1)
Portland Train
Portland Train: Contracts
Name
Image
Cost
Time
Reward
XP
Coins /Minute
XP /Minute
Requirements
Rush Hour Schedule (VI)[C 1][C 2]

3,400 
+
3,800 
3 hours
6,550 
+
7,400 
32 
17.50 
+
20 
0.18 
Underground Subway Station (Level 2)
Surface Subway Station (Level 2)
Workday Schedule (VI)[C 1][C 3]

3,200 
+
3,400 
6 hours
7,664 
+
10,096 
55 
12.40 
+
18.60 
0.15 
Underground Subway Station (Level 2)
Surface Subway Station (Level 2)
Weekend Schedule (VI)[C 1][C 4]

2,850 
+
3,050 
9 hours
8,750 
+
12,200 
59 
10.92 
+
16.90 
0.11 
Underground Subway Station (Level 2)
Surface Subway Station (Level 2)
Short-Distance Route (VI)[C 5]

5,800 
+
6,900 
4 hours
10,600 
+
12,700 
45 
20 
+
24.17 
0.19 
Surface Subway Station (Level 2)
Overground Subway Station (Level 1)
Long-Distance Route (VI)[C 5]

5,200 
+
6,200 
8 hours
14,100 
+
16,900 
77 
18.54 
+
22.29 
0.16 
Surface Subway Station (Level 2)
Overground Subway Station (Level 1)
Special Route (VI)[C 5]

4,200 
+
5,000 
12 hours
16,400 
+
19,600 
83 
16.94 
+
20.28 
0.12 
Surface Subway Station (Level 2)
Overground Subway Station (Level 1)
Amtrak Train
Amtrak Train: Contracts
Name
Image
Cost
Time
Reward
XP
Coins /Minute
XP /Minute
Requirements
Rush Hour Schedule (VII)[C 1][C 2]

4,000 
+
4,500 
4 hours
8,800 
+
10,750 
53 
20 
+
26.04 
0.22 
Underground Subway Station (Level 2)
Surface Subway Station (Level 2)
Workday Schedule (VII)[C 1][C 3]

3,700 
+
4,000 
6 hours
9,400 
+
12,500 
69 
15.83 
+
23.61 
0.19 
Underground Subway Station (Level 2)
Surface Subway Station (Level 2)
Weekend Schedule (VII)[C 1][C 4]

3,350 
+
3,600 
12 hours
13,400 
+
19,100 
106 
13.96 
+
21.53 
0.15 
Underground Subway Station (Level 2)
Surface Subway Station (Level 2)
Short-Distance Route (VII)[C 5]

9,400 
+
11,200 
5 hours
17,200 
+
20,600 
70 
26 
+
31.33 
0.23 
Surface Subway Station (Level 2)
Overground Subway Station (Level 2)
Long-Distance Route (VII)[C 5]

8,500 
+
10,100 
10 hours
22,700 
+
27,100 
121 
23.67 
+
28.33 
0.20 
Surface Subway Station (Level 2)
Overground Subway Station (Level 2)
Special Route (VII)[C 5]

6,800 
+
8,100 
12 hours
22,300 
+
26,700 
111 
21.53 
+
25.83 
0.15 
Surface Subway Station (Level 2)
Overground Subway Station (Level 2)
Houston Train
Houston Train: Contracts
Name
Image
Cost
Time
Reward
XP
Coins /Minute
XP /Minute
Requirements
Short-Distance Route (VIII)[C 1]

11,700 
+
14,100 
5 hours
21,500 
+
25,900 
74 
32.67 
+
39.33 
0.25 
Surface Subway Station (Level 2)
Overground Subway Station (Level 3)
Long-Distance Route (VIII)[C 1]

10,500 
+
12,700 
9 hours
26,500 
+
31,900 
114 
29.63 
+
35.56 
0.21 
Surface Subway Station (Level 2)
Overground Subway Station (Level 3)
Special Route (VIII)[C 1]

8,400 
+
10,200 
12 hours
27,800 
+
33,500 
117 
26.94 
+
32.36 
0.16 
Surface Subway Station (Level 2)
Overground Subway Station (Level 3)
Data
| Level | Additional Access |
| --- | --- |
| Each Level | Access to different Contracts as mentioned above |
Trivia
SQ Internal Info:

Name: Поезд (translates to Train)
ID: 18083 (subway_train_buildsite_template)
References