The Solar Farm is a power supply structure located on the desert on the ocean side between the starting expansion zone and Heliport expansion zone. It was originally introduced on July 12, 2013.[1]
A total of 35 assets are needed to complete construction of the Solar Farm. This is equivalent to 35 

if one were to buy every asset instead of waiting to receive them from neighbors.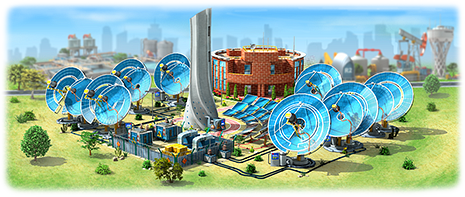 Completion of the Solar Farm construction provides 1,000 

and and access to purchase 4 adjacent Additional Modules, each of which gives an additional 1,100 

when fully upgraded, for a total of 5,400 

.
Related Buildings
Requirements
Quests and Achievements
Quests
Achievements
Solar Farm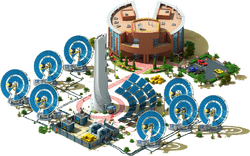 ---
Additional Modules

Purchase of each Production Laboratory (up to 4) at the Power Engineering Institute allows purchase of an Additional Module Foundation at the Solar Farm, which can then be constructed to provide additional power.
Upgrading of each Production Laboratory to a Production Complex (up to 4) allows each Additional Module (Level 1) to be upgraded to an Additional Power Installation (Level 2).
BUG!
In the iOS and Android version of the game, the player only has to purchase one
Production Laboratory
to be able to purchase all four Additional Module Foundations. In addition, the Production Laboratory does not need to be upgraded to a
Production Complex
in order to upgrade the Additional Modules (Level 1) to Additional Power Installations (Level 2).
Additional Module (Level 1)
| Requires (each) | Rewards (each) |
| --- | --- |
| | |
Additional Power Installation (Level 2)
| Requires (each) | Rewards (each) |
| --- | --- |
| | |
References