(

January 12 2017 09:00:00 +0200

 remaining)

"There's been some terrible news from neighboring Snowville! The town got snowed under just before the winter holidays. The houses are in snowdrifts that reach up to the roofs and the citizens can't deal with the disaster themselves... What can we do?"




"We won't leave our neighbors in trouble! Let's help Snowville to clear the snow from the city, decorate the Christmas Tree and have a top Christmas and New Year celebration."
"Clear the houses in Snowville, explore Santa's Hideaway and take part in the Christmas Tree Contest. Hurry, Snowville will be closed off after the contest ends!"
Snowville is a special contest released by Social Quantum and the only one that takes place in Snowville. It is a timed contest in which the player has 28 days to construct/clear buildings, complete contracts, collect benefits at buildings or the "mining game" to accrue points toward placement on a leaderboard. These special buildings are only available during the timed event. It was released as part of an update on December 15, 2016[1]. Additional buildings were added on December 22, 2016[2], on December 29, 2016[3] and on January 05, 2017[4].
Snowville Area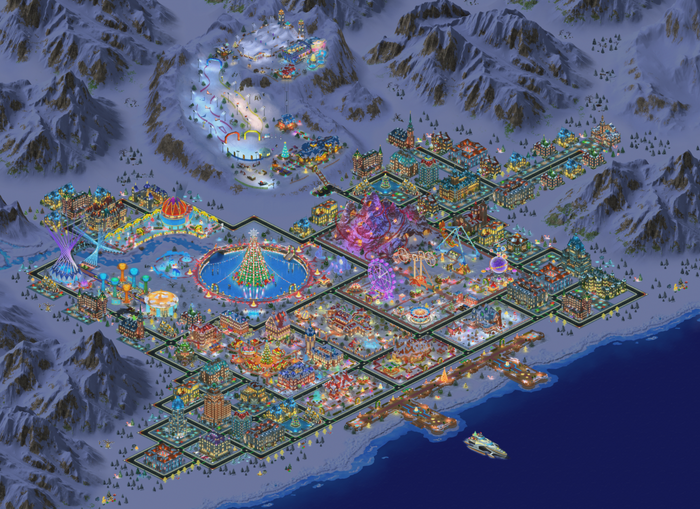 Snowville is not shown on the Megapolis main map and it is not an expandable territorium
The player can visit the area either by using the visit button in the contest window or by tapping the yacht located next to Yacht Club
Another yacht is located at the coast of Snowville that show up on the South-East region
Like in Las Megas there is no daylight in Snowville, so the daytime is maybe evening or night
The territorium has a mountainous terrain with a valley in the middle where all Snowville buildings are located, except the Snowville Mountain Resort area (located on a massive hill on the northern region)
The Snowville area is no longer accessible!
Buildings
At this contest all contest related buildings are fixed placed in Snowville and automatic purchased, except for Firework Factory II and III.
Central Structures
Additional Structures
Extra Events
New Year's Gift
On December 29, 2016 all players received a prompt wishing them a "Happy New Year!" and some gifts from Social Quantum.
"Happy New Year! We hope you have a fantastic time in the year to come. To make things even more joyful, take some gifts from us for the New Year!
Reward Buildings
These buildings are the prizes the lucky few at the top of the leader boards will get at the end of the event.
Hoarfrost Mall
Arctic Office Center
Icy Peak Tower
Top 1000
Top 100
Top 10
3x4 Plot
1 minute build
2x4 Plot
1 minute build
3x3 Plot
1 minute build
120  and 91 
84  and 71 
92  and 86 
94,900  and 6,600 
76,400  and 4,800 
98,700  and 5,900 
6,200  and 150  every 8 hours
Coin per Minute: 12.92 
XP per Minute: 0.31 
9,400  and 280  every 15 hours
Coin per Minute: 10.44 
XP per Minute: 0.31 
21,700  and 500  every 20 hours
Coin per Minute: 18.08 
XP per Minute: 0.42 
Can be sold for 909,400 
Can be sold for 1,126,200 
Can be sold for 2,039,200 
Achievements
World Competition
Worldwide Winner
Absolute Winner
World Champion
Reach 101st-1,000th place in the worldwide TOP
Reach 11th-100th place in the worldwide TOP
Reach 1st-10th place in the worldwide TOP
You collected Christmas decorations and became a prize winner of the Christmas Tree Contest!
You collected many Christmas decorations and got on the global Christmas Tree Contest winners' leaderboard!
You collected a huge number of Christmas decorations and got into the top ten of global Christmas Tree Contest winners!
Additional Rewards
These are some of the prices you will receive as you play the event.
50 Baubles = New Year Town Hall

New Year Town Hall

Requires:
Gives:
550 Baubles = Holiday Theater

Holiday Theater

Requires:
Gives:
3400 Baubles = Grand Reception Palace

Grand Reception Palace

Requires:
Gives:
At the end the contest the player will get a movable christmas tree as an additional reward. There are 9 different trees that are allocated to the player, dependent on the stage of his Christmas Tree in Snowville.

Christmas Tree (I)
Christmas Tree (II)
Christmas Tree (III)
For stages 1 - 2
For stages 3 - 6
For stages 7 - 8
2x2 Plot
1 minute build
2x2 Plot
1 minute build
2x2 Plot
1 minute build
4,600  and 150 
7,600  and 370 
9,000  and 600 
130  and 6  every 3 hours
Coin per Minute: 0.72 
XP per Minute: 0.03 
350  and 13  every 5 hours
Coin per Minute: 1.17 
XP per Minute: 0.04 
560  and 21  every 7 hours
Coin per Minute: 1.33 
XP per Minute: 0.05 
Can be sold for 20,000 
Can be sold for 50,000 
Can be sold for 100,000 

Christmas Tree (IV)
Christmas Tree (V)
Christmas Tree (VI)
For stages 9 - 11
For stages 12 - 14
For stages 15 - 17
2x2 Plot
1 minute build
3x3 Plot
1 minute build
3x3 Plot
1 minute build
11,000  and 870 
31,000  and 3,000 
38,000  and 3,500 
910  and 30  every 9 hours
Coin per Minute: 1.69 
XP per Minute: 0.06 
3,100  and 100  every 11 hours
Coin per Minute: 4.70 
XP per Minute: 0.15 
4,700  and 140  every 13 hours
Coin per Minute: 6.03 
XP per Minute: 0.18 
Can be sold for 150,000 
Can be sold for 200,000 
Can be sold for 250,000 

Christmas Tree (VII)
Christmas Tree (VIII)
Christmas Tree (IX)
For stages 18 - 20
For stage 21
For stage 22
3x3 Plot
1 minute build
3x3 Plot
1 minute build
4x4 Plot
1 minute build
53,000  and 4,500 
75,000  and 5,000 
150,000  and 10,000 
6,800  and 180  every 16 hours
Coin per Minute: 7.08 
XP per Minute: 0.19 
11,000  and 250  every 20 hours
Coin per Minute: 9.17 
XP per Minute: 0.21 
27,000  and 750  every 24 hours
Coin per Minute: 18.75 
XP per Minute: 0.52 
Can be sold for 300,000 
Can be sold for 400,000 
Can be sold for 500,000 
Trivia
SQ Internal Info:

Name: Сноувилль (translates to Snowville)
ID: 20076800 (competition_new_year2017)
References
Hunting Contests
December 15, 2016
• Snowville

June 08, 2017
• Lost Island
August 03, 2017
• Lost Oasis
November 09, 2017
• River Valley
December 14, 2017
• Snowville II
March 30, 2018
• Flowering Hills
June 07, 2018
• Lost Island II
August 16, 2018
• Lost Oasis II
November 01, 2018
• River Valley II
December 18, 2018
• Santa's Village
February 14, 2019
• Blooming Hills
April 25, 2019
• Tribal Island
July 04, 2019
• Lost Island III

August 29, 2019

• Mediterranean Paradise

December 19, 2019

• Santa's Village II

February 13, 2020

• Tropical Island

May 07, 2020

• King Solomon's City
July 16, 2020
• Celtic Valley

October 01, 2020

• Lost World