The Santa's Hideaway is a Snowville building located in Snowville, southeast of Christmas Tree. It was originally introduced on December 14, 2017.[1]
Requirements
Mining Game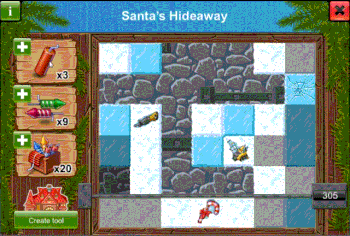 Task of the mining game is to burst snow (white) and ice blocks (light blue) with explosive devices to obtain materials (only for snowville buildings),
baubles 

, coins

, explosive devices, chests or bombs that explode instantly. The wood blocks are indestructible. The explosive devices can be produced at three different firework factories (
Firework Factory I
,
Firework Factory II
and
Firework Factory III
) or can be purchased with

.
Effects of the explosive devices:
Firecracker:
1 block; simple burst effect[2]

Rockets:
all blocks in 1 row; simple burst effect[2]; can be placed only on empty fields

Box of Fireworks:
to 8 blocks (on the line of the placement); can burst snow and ice; can be placed only on empty fields
Some blocks are covered because they are outlined of other ones that have to be bursted to uncover them. When a block below the grey line - layer counter on the right side - is burst open, the grey line (layer) move down. Chests can be opened by 1 

(initial 3 

) and comprise materials, baubles 

baubles baubles 
, or explosive devices.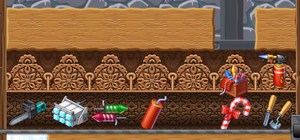 Every 50-60 layers there appears a vault full of different presents.
Gallery
Click on an image to expand
Trivia
SQ Internal Info:

Name: Тайник Санты (translates to Santa's Stash)
ID: 20102053 (new_santa_mine)
References
Community content is available under
CC-BY-SA
unless otherwise noted.