Passenger Airplane
Plot
Fixed
Cost
100,000 
0 
0 
Provides
0 
No periodic benefit
Construction
Instant
The Passenger Airplane is a fixed location to the north-east of the starting zone added during an update on 05.17.2013.
The first and second plane can be built after the Airport Terminal is complete.
The 3nd-6th can be when: Concourse A - Level 1
7th-10th: Concourse B - Level 1
To complete construction of a single plane, as with all construction projects, there is a choice between waiting, and receiving gifts via neighbors, or buying any/all required assets with megabucks

. A total of 290 assets are needed to complete construction of one Passenger Airplane; this equates to 330 

if you were to buy every asset.
You can build a total of 10 planes, which offer three unique contracts per level.
Added on February 12, 2013 - Airplanes now taxi from the Airport Terminal - Concourse A & Concourse B to the Runway and take off once a contract is assigned. Flying in different directions - planes return at the end of each contract.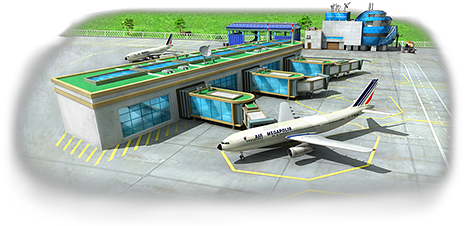 See Also
TIP
To upgrade all 10 Planes to Level 5, you'll need 3,300 or 2,900 gifts. Be sure you're willing to start such a project!
Quests and Achievements
Quests:
Achievements:
Contracts (Passenger Airplane)
Unlike other production locations, once the Plane is upgraded, it loses access to the lower level contracts. See each individual plane for the contract it provides.
Passenger Airplane: Contracts
Name
Cost
Duration
Reward
XP
Coins/Minute
XP/Minute
Requirements

Skydiving Competition
13,500 
2 hours
16,000 
[c 1]
30 
133.30 
0.30 
Runway (Level 1)

Flight School
8,500 
4 hours
12,000 
[c 1]
50 
50 
0.20 
Runway (Level 1)

Airmail
4,000 
10 hours
11,000 
[c 1]
60 
18.30 
0.10 
Runway (Level 1)
TIP
Once you upgrade the plane to the next level, you cannot complete the contracts assigned to lower levelled planes. Be sure that you can complete the contracts of the plane you're upgrading to, before you complete construction
Four-Engine Monoplane (Level 1)

Requires
16 or 15 asset gifts
Rewards
Courier Airplane (Level 2)

Requires
25 or 25 asset gifts
Rewards
Wide-Body Airliner (Level 3)

Requires
60 or 50 asset gifts
Rewards
Mid-Range Airliner (Level 4)

Requires
110 or 80 asset gifts
Rewards
Long-Range Airliner (Level 5)

Requires
140 or 120 asset gifts
Rewards
Trivia
References
Community content is available under
CC-BY-SA
unless otherwise noted.