The Airplane (originally known as Passenger Airplane) is a fixed location to the north-east of the starting zone added during an update on 05.17.2013[1].
You can build a total of 10 planes.
A total of 2,900 assets are needed to complete construction of all Airplanes. This is equivalent to 3,710 

if one were to buy every asset instead of waiting to receive them from neighbors.
On Tue February 12, 2013 the feature were added where Airplanes now taxi from the Airport Terminal, Terminal A & Terminal B to the Runway and take off once a contract/order is assigned. Flying in different directions - planes return at the end of each contract/order.
After the introduction of "Industrialization" on Mon January 20, 2020, all passenger airplanes' contracts are no longer available (switch to desktop version to view deprecated data). They carry a certain amount of produced materials and return with assets.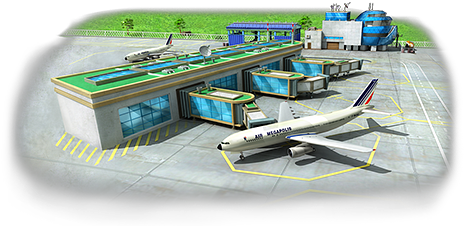 Quests and Achievements
Quests (deprecated):
Achievements:
Assets
Cargo Airplane
No assets needed
Motorized Monoplane
Courier Airplane
Requirements:
Wide-Body Airliner
Requirements:
Mid-Range Airliner
Requirements:
Long-Range Airliner
Requirements:
Data
| Level | Access |
| --- | --- |
| 0 | 1 Order Slot |
| 1 | Extra Order Slot |
| 2 | 10% Reduced Order Duration |
| 3 | Extra Order Slot |
| 4 | 20% Reduced Order Duration |
| 5 | Extra Gift Slot |
| Total/Max | 3 Slots + 1 Gift Slot and 80% of initial order duration |
Order Board
| | |
| --- | --- |
| | |
Each airplane can provide one order. The amount of item slots and duration depends from the construction level of the regarding airplane (view "Data" above). The orders are randomly generated and comprise one item per slot with different quantity. Every order contains items of the same difficulty level of crafting (short, medium, long). When items of one slot are completly crafted, the slot appeares green and the player has only to apply these to close the slot. After all slots (max 3 slots) are closed, the airplane start taking off and the order goes in process. As reward for a finished order the player recieves experience points

that is determined through the amount of each item and construction materials/ assets, always one per slot. The gift slot that can be unlocked at construction level 5 (Long-Range Airliner) and rewards the player additionally with one asset without requiring anything. If the player should not crafted all required items, he can complete the order with megabucks. These orders can not be deleted or canceled.
Order Durations:
Short (below 1 hour): Plane (A), (B), (E) and (H)
Medium-long (1-3 hours): Plane (C), (F) and (I)
Long (over 3 hours): Plane (D), (G) and (J)
Crafting Difficulty Level Overview
Short
Medium
Long
Gallery
Trivia
SQ Internal Info:

Name: Грузовой самолет (translates to Cargo airplane)
ID: 16908 (airport_plane1_place)
References