The Mining Office is an industrial hub located on the northern north east border of the Central Region expansion zone in Industrial Complex. It was originally introduced on July 15, 2015 as part of the timed quest called Industrial Complex.[1]
A total of 515 assets and additional 10,250,000 

worth diagrams are needed to complete construction of the Mining Office. This is equivalent to 515 

if one were to buy every asset instead of waiting to receive them from neighbors.

On July 21, 2015, coin assets' values were updated as follows:
Events and Achievements
Requirements
Mine: Uncovering Deposits (Level 1)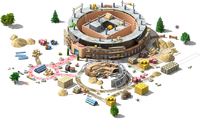 Mine: Excavating Soil with an Excavator (Level 2)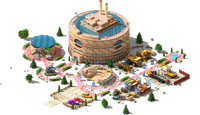 Mine: Excavating Soil with Explosives (Level 3)
Mine: Stripping Activities (Level 4)
Mine: Extraction Activities (Level 5)
Excavation Pit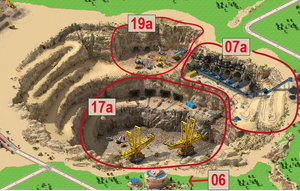 In the center of the Industrial Complex lies the Excavation Pit (also known as Quarry). It contains the following mining equipments:
All of these mining equipments will raise the Production Limit of the corresponding facility. The productivity of those Mining Complexes can be raised with upgrading the Mining Office (#06)
Trivia
SQ Internal Info:

Name: Управление горной промышленности (translates to The Office of the mining industry)
ID: 23165 (mining_quarry_place)
References
Community content is available under
CC-BY-SA
unless otherwise noted.