For disambiguation, see Media Center (disambiguation).
For the production building in the Rocky Mountains game zone associated with the Winter Games timed quest, see Media Center (Winter Games).
Media Center (Foundation)
Plot
Fixed
Cost
30,000 
2 
12 
10 
Provides
120 
Population limit:

1,000 

No periodic benefit
Construction
Instant

The Media Center is a production building located to the south east of the starting game zone, in the center of the desert. It was added during an update on 03.01.2013 as part of the timed quest called Megapolis-Dakar Rally.[1]
The foundation was only available during the quest.
A total of 45 assets are needed to complete construction of the Media Center. This is equivalent to 55 

if one were to buy every asset instead of waiting to receive them from neighbors.
Quests and Achievements
Quests
Requirements
Contracts
Media Center: Contracts
Name
Cost
Duration
Reward
XP
Coins/Minute
XP/Minute
Requirements

Sports Event Broadcasting
2,500 
3 hours
6,500 
25 
22.22 
0.14 
Media Center

Satellite Transmission of World News
4,900 
11 hours
16,000 
105 
16.82 
0.16 
Media Communications Center
Media Center (Level 1)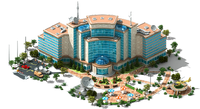 Media Communications Center (Level 2)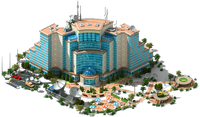 Extra Buildings
Grand Prix Hotel
Tuning Shop
60,000  or 2 
Maximum 5 can be built
50,000  or 2 
Maximum 5 can be built
9  and 5 
8  and 5 
1x2 Plot
4 hours build
1x2 Plot
3 hours build
680 

220  and 2,500 

300  and 18  every 4 hours
Pop per Minute: 1.25 
XP per Minute: 0.08 
200  and 10  every 6 hours
Coins per Minute: 0.56 
XP per Minute: 0.03 
Can be sold for 12,000 
Can be sold for 10,000 
Deprecated Buildings
Grand Prix Hotel[2]
60,000

or 2 


Maximum 5 can be built
9

and 5 

1x2 Plot
4 hours build
155

240

and 15 

every 4 hours
Pop per Minute: 1 


XP per Minute: 0.06 

Can be sold for 12,000 

Trivia
SQ Internal Info:

Name: Медиацентр (translates to Media Center)
ID: 17372 (media_center_place)
References
↑ Before October 17, 2014