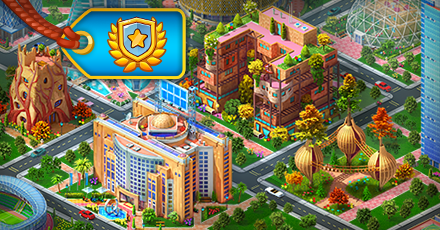 Forest Life is the eighteenth state season released by Social Quantum. It is a 42 days lasting event consisting of 6 state contest in which state members can compete against other states all around the world. The aim is to collect state experience to earn ranking points that rise up the state on the leaderboards. It was released as part of an update on September 23, 2021[1].
There exist seven leagues beginning with the Village League and ending with the World League. Does the state earn enough points at the end of a contest it move up in the next higher league and can earn more ranking points.
A league leaderboard have placement sections with different ranking rewards (MBs, emblem symbols, building coupons).
| | |
| --- | --- |
| Emblem at place 1 - 5 in Federal League | |
| Emblem at place 1 in World League | |
Season Rewards
Contest/Ranking Points
Rewards
100 

Oak House Holiday Home
2x2 Plot
1 minute build
24  and 15 
11,800  and 890 
800  and 29  every 8 hours
Coin per Minute: 1.67 
XP per Minute: 0.06 
Can be sold for 300 

200 
5 
300 

01

 x Building Coupon for 10 materials
400 
10 
500 

Frame
600 

Japanese Yoga House
2x2 Plot
1 minute build
29  and 20 
17,500  and 1,700 
1,400  and 43  every 9 hours
Coin per Minute: 2.59 
XP per Minute: 0.08 
Can be sold for 400 

700 

02

 x Building Coupon for 10 materials
850 
15 
1,000 

Gnome Restaurant
2x2 Plot
1 minute build
40  and 31 
31,100  and 2,300 
3,000  and 70  every 12 hours
Coin per Minute: 4.17 
XP per Minute: 0.10 
Can be sold for 500 

1,150 

Forest Life
1,300 

01

 x Building Coupon for 20 materials
1,450 
20 
1,600 

Treehouse Relaxation Complex
2x3 Plot
1 minute build
64  and 62 
69,100  and 3,900 
10,500  and 210  every 13 hours
Coin per Minute: 13.46 
XP per Minute: 0.27 
Can be sold for 600 

1,800 

03

 x Building Coupon for 10 materials
2,000 
30 
2,250 

Forest Hotel
2x3 Plot
1 minute build
64  and 74 
95,300  and 5,200 
15,000  and 330  every 15 hours
Coin per Minute: 16.67 
XP per Minute: 0.37 
Can be sold for 800 

2,500 

02

 x Building Coupon for 20 materials
2,800 
40 
3,100 

01

 x Building Coupon for 50 materials
3,500 
50 
References