The experience level in Megapolis is uncapped. Players begin at Level 1 with

. As they gain

, they level up when they meet the requirements for the next level.
Level Benefits
Each time the player levels up they are given:
Access to new buildings
One-time offer: random unique building (upto Level 53) or most needed assets (Level 54 onwards).

NOTE: This benefit was introduced in March 2013. Periodically buildings which were available through a Megabuck Special will appear with a 5  price claiming that the original building was worth 20 . There has been no official comment from Social Quantum on the introduction of this feature.
| | | |
| --- | --- | --- |
| | Bug: | Some players have reported they were unable to acquire the one-time offer. There are mixed descriptions saying that the megabucks are charged or that no charge was made. Either way, the building does not appear in the Storehouse as expected.[1] |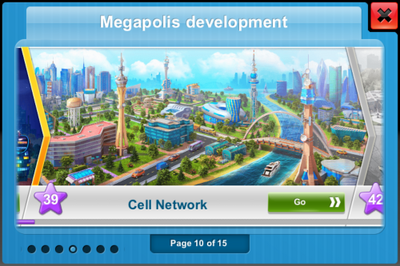 By ascending to higher levels the player get access to "features" like Tourist Island (at level 33) or Cosmic Conquest (at level 42). To open the Megapolis development window, tab on the experience bar in the top middle of the display.
XP Chart
The following XP chart shows the number of

required to progress to the next level.
Key (for the chart):
XP Points = required xp points in total
Pts to next lvl = collected xp points for the next level
Increase = increase of the collected points (between 2 levels)
One-time Discounts
At every level-up the player is offered a one-time discount. The following is a table of which discounts are available at which levels.  Starting with level 54, the player is offered an asset at a 50% discount; the asset offered is the one in needed in greatest quantity based on the player's open construction projects.
References