Mainland
Industrial Complex
Tourist Island

Space Launch Facility


Never Released

Las Megas
Rocky Mountains
Expansions increase the playable area where you can place buildings.
Expansion Territories
There are ten expansion territories in the Megapolis Mainland that can be unlocked:
City Center- In the center of the map, encompassing the mouth of the river and areas to the northeast.
River Valley - northwest of the starting territory, between the main road and Central Park.
Seaside - west of the starting territory, on the north coast of the ocean. (Released April 09, 2013)[1]
Business Island - southwest of the starting territory, on the island. (Released March 07, 2013)[1]
Lowland - northeast of the starting territory, beyond the Airport Terminal. (Released June 25, 2013)
Desert - southeast of the starting territory, in the middle of the desert. (Released October 11, 2013)
Highland - north of the starting territory, north of the Overpass. (Released January 10, 2014)
Westside - northwest of the starting territory, northwest of the Road Junction. (Released March 14, 2014)
Archipelago - in the ocean far south west of the mainland connected by road (underwater) and rail (underwater). (Released August 21, 2015)
Great Lakes - far north-east of Megapolis. (Released October 22, 2015)
The expansion territories can be accessed in any order with the exception of the North Area and Great Lakes, which requires completion of the Overpass to begin construction of the North Exit.
Additional Game Zones
A major update on August 06, 2013 introduced new Game Zones beyond the original Megapolis game zone, each of which includes its own playable expansion territory. Players switch between these game zones by way of a map. Each game zone has a separate

cap and uses a separate allocation of

and

based only upon the buildings in that zone, although

are shared between all game zones. Standard Production Buildings from the store are only available in the mainland and Rocky Mountains game zone, and several Infrastructure buildings are only available in certain game zones.
Tourist Island (released August 06, 2013 for 200,000 , updated February 06, 2014 to require completion of Hydroport for access). A new expansion area in this game zone was introduced on February 28, 2019 and another on May 23, 2019.
Rocky Mountains (released December 13, 2013 for free)
Las Megas (released November 14, 2014 with the Magnificent Las Megas timed quest). Standard Production Buildings are not available here. Many buildings from the main game zone are duplicated in modified "night-time" versions for this zone. A new expansion area was introduced on November 12, 2015.
Industrial Complex (released on July 15, 2015 with the Industrial Complex timed quest). Standard Production Buildings are not available here. Includes 4 expansion area.
Space Launch Facility (future release was shown on main map, but later removed; buildings appearing on the banner has been released later on the mainland).
State Capital is another game zone but its not part of Megapolis region. Its on a different zone outside the map.
There are also special zones that can be only visited during certain time; go here.
Footnotes
Expansion Requirements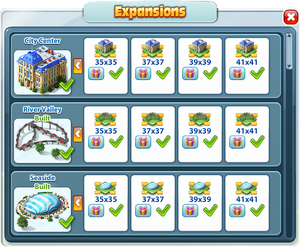 Once a territory is unlocked, the area available for building can be expanded with:
Soundtracks
Megapolis Mainland
Industrial Complex
Tourist Island
Las Megas
Rocky Mountains
Snowville
Snowville II
Santa's Village
Santa's Village II
Lost Island
Lost Island II
Lost Oasis
River Valley
Lost Oasis II
River Valley II
Flowery Hills II
Tribal Island
Lost Oasis III
Mediterranean Paradise
Fairytale Bali
Solomon's Mines
Celtic Valley
Lost World
Venice
Machu Picchu
Cyberville
Lukomorye
Mainland
City Center
River Valley
Seaside
Lowland
Desert
Highland
Westside
Archipelago
Great Lakes
Primary
Floating Valley
Bridge Island
Primary
Yellowstone
Primary
Paradise
Additionally, each Las Megas Islands provides non-expandable expansion zone.
Central Region
Mountain Plains
Gold Plateau
Coastal Valley
State
For details, visit State Capital
The State consists of 9 non-expandable "prebuilt" zones.
Other Locations
Other than the above mentioned areas, there are many other temporary zones "room". These rooms are only acceptable during certain events.
Old Game Maps