The Diamir Bridge is an Industrial Complex bridge that connects the Mountain Plains expansion zone with the Coastal Valley. It was originally introduced on Wed July 15, 2015.[1]
A total of 180 assets are needed to complete construction of the Diamir Bridge. This is equivalent to 200 

if one were to buy every asset instead of waiting to receive them from neighbors.
Events and Achievements
Requirements
Diamir Bridge (Level 1)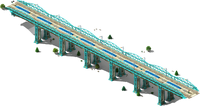 Trivia
SQ Internal Info:

Name: Мост "Диамир" (translates to Bridge "Diamir")
ID: 23197 (bridge_diamir_place)
References