The City Warehouse is an administration building located next to the Airport Terminal, once where the Bus Station was placed. It was originally introduced on Mon January 20, 2020.[1]
A total of 4,758 assets are needed to complete construction of the City Warehouse. This is equivalent to 11,102 

if one were to buy every asset instead of waiting to receive them from neighbors.

The City Warehouse stocks all produced and crafted items from factories and stores. From there, they can either be used as raw materials to craft store goods, or those materials can be supplied by either of the Airport Terminal order board or airplane orders.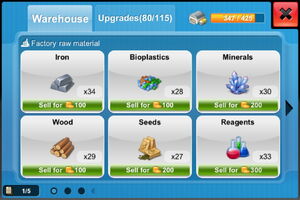 Assets
Level 1 - 5 City Warehouse
Level 6 - 8 City Warehouse
Level 9 - 11 City Warehouse
Level 12 - 15 City Warehouse
Level 16 - 19 City Warehouse
Level 20 - 23 City Warehouse
Level 24 - 27 City Warehouse
Level 28 - 31 City Warehouse
Level 32 - 35 City Warehouse
Level 36 - 40 City Warehouse
Level 41 - 45 City Warehouse
Level 46 - 50 City Warehouse
Level 51 - 55 City Warehouse
Level 56 - 60 City Warehouse
Level 61 - 65 City Warehouse
Level 66 - 70 City Warehouse
Level 71 - 75 City Warehouse
Level 76 - 80 City Warehouse
Level 81 - 85 City Warehouse
Level 86 - 90 City Warehouse
Level 91 - 95 City Warehouse
Level 96 - 100 City Warehouse
Level 101 - 105 City Warehouse
Level 106 - 110 City Warehouse
Level 111 - 113 City Warehouse
Level 114 - 115 City Warehouse
Data
| Level | Storeroom Limit (Items) |
| --- | --- |
| 1 | 30  |
| 2 - 115 | + 5  |
| Total/Max | 600  |
Gallery
Trivia
SQ Internal Info:

Name: Городской склад (translates to City warehouse)
ID: 1022000 (craft_materials_shed_place)
References