The Central Station is a transport hub located between Road Junction and Logistics Center. It was added during an update on 12.08.2014 as part of the timed quest called Railroad.[1]
A total of 350 assets are needed to complete construction of the Central Station. This is equivalent to 350 

if one were to buy every asset instead of waiting to receive them from neighbors.
See Rail Transportation for more related details.
Quests and Achievements
Quests
Achievements
Requirements
Central Station: Commuter Ticket Booths (Level 1)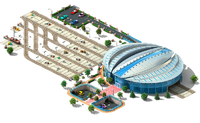 Central Station: Waiting Room (Level 2)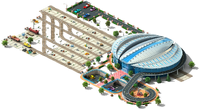 Central Station: Business Class Waiting Room (Level 3)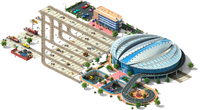 Trivia
SQ Internal Info:

Name: Центральный вокзал (translates to Central Station)
ID: 71100 (train_station_place)
References