The Cargo Port is a transport hub located on the central south east boundary of Marina expansion zone. It was originally introduced on July 15, 2015 as part of the timed quest called Industrial Complex.[1]
The hub controls all shipping wharfs that transport the Industrial Resources abroad for sell after they are transferred from Cargo Depot.
A total of 180 assets and additional 120,000 

worth diagrams are needed to complete construction of the Cargo Port. This is equivalent to 180 

if one were to buy every asset instead of waiting to receive them from neighbors.
Events and Achievements
Requirements
Cargo Port (Level 1)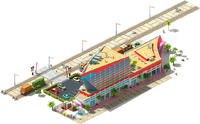 Specialized Cargo Port (Level 2)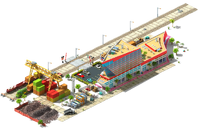 Universal Cargo Port (Level 3)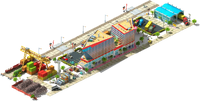 Trivia
SQ Internal Info:

Name: Грузовой порт (translates to Cargo port)
ID: 23230 (cargo_port_place)
The Megapolis Basketball Arena was relocated two weeks prior to the introduction of Cargo Port, from Cargo Port's current place to the very west of the map.
References
Community content is available under
CC-BY-SA
unless otherwise noted.