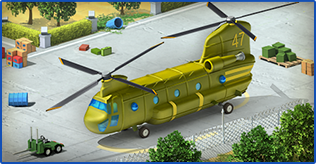 (

May 18, 2017 09:00:00 +0200

 remaining)
"Megapolis is hosting military contests. It's a great opportunity to not only earn military influence points, but also compete for superiority in the Arms Race!"

"The residents ask the Mayor to: hold Arms Race X"

"Produce military tech and carry out military operations to get military influence points. Get excellent prizes and become the victor of Arms Race X!"



---
Arms Race X is the tenth Military contest released by Social Quantum. It is a timed contest in which the player has 7 days to construct military buildings or prototypes and complete operations to accrue military influence points toward placement on a leaderboard comprising 30 players. It was released as part of an update on May 11, 2017[1].
In the contest there are six leagues in which the player is assigned to it, dependent on his miltary rank:
Rewards
These buildings are the prizes the lucky few at the top of the leader boards will get at the end of the event.
League 1
League 2
League 3
League 4
League 5
League 6
Trivia
SQ Internal Info:

Name: Гонка вооружений X (translates to Arms race X)
ID: 10094650 (competition_military_event10)
References