For the airport located on the northeast coast of Tourist Island, see Airport (Tourist Island).
The Airport Terminal is an administration building located north-east of the starting zone. It was originally introduced on Fri May 17, 2013 as part of the timed quest called Megapolis Airport.[1]
Since an update on Mon January 20, 2020[2] on the Airport Terminal can now accomplish item orders by crafting materials in various factories and stores, in reward the player earns coins and experience points.
Quests and Achievements
Quests (deprecated):
Achievements:
Assets (deprecated)
Airport Terminal
Order Board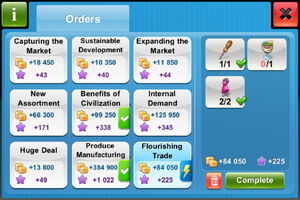 The design is comparable to the one at the Military Headquarters. In total 9 fields for each one order are shown on the board and don't require any activations except Airport Terminal Level 1. The orders are randomly generated and comprise one to five different items with different quantity. The amount of coins

and experience

of an order is determined through the amount of each item. Every order contains items of the same difficulty level of crafting (short, medium, long), orders with items of different levels are labeled with a power symbol (see box 9). If the player should not produced all required items, he can complete the order with megabucks. An order can be scraped by pushing the trash button whereupon a new order will be generated after 15 minutes waiting time.
Crafting Difficulty Level Overview
Short
Medium
Long
Data (deprecated)
| Level | Population Limits | XP | Power | Water | Additional Access |
| --- | --- | --- | --- | --- | --- |
| Level 0 | 5,000  (+5,000) | 500  (+500) | 30  (+30) | 10  (+10) | — |
| Level 1 | 12,500  (+7,500) | 1,000  (+500) | 50  (+20) | 20  (+10) | Unlocks Airplane (A) and (B) |
| Total/Max | 12,500  | 1,500  | 50  | 20  | — |
Gallery
Click on an image to expand
Deprecated
Click on an image to expand
Trivia
SQ Internal Info:

Name: Аэровокзал (translates to Airport terminal)
ID: 16889 (airport_terminal_place)
When flights are sent from the airport, real-world city names are displayed on the airport screen as the flight's destination. (e.g. Baghdad, Hanoi)
References